The Law Office of Raffi T. Khorozian P.C.
Since 1993, Raffi T. Khorozian has been dedicated to providing top-quality legal representation to innocent victims of motor vehicle accidents. If you have suffered injuries due to the carelessness and negligence of others, our team is here to help.
With extensive knowledge and experience in handling, negotiating, and trying car accident cases, Raffi T. Khorozian is a trusted car accident Lawyer throughout New Jersey and New York. Our track record of success and outstanding reputation drive us to secure fair compensation for our clients—ordinary people who have been wronged.
Unlike many law firms that charge a standard rate of 33% for their services, we offer a reduced rate of only 25% of net recovery. We believe that our clients deserve to keep more of their hard-earned money during challenging times, such as dealing with injuries, loss of income, lifestyle changes, and other hardships resulting from a motor vehicle accident.
When you choose us, you can focus on your recovery and rebuilding your life, knowing that our team is diligently working towards achieving justice on your behalf.
Let us handle the legal complexities while you keep what you rightfully deserve.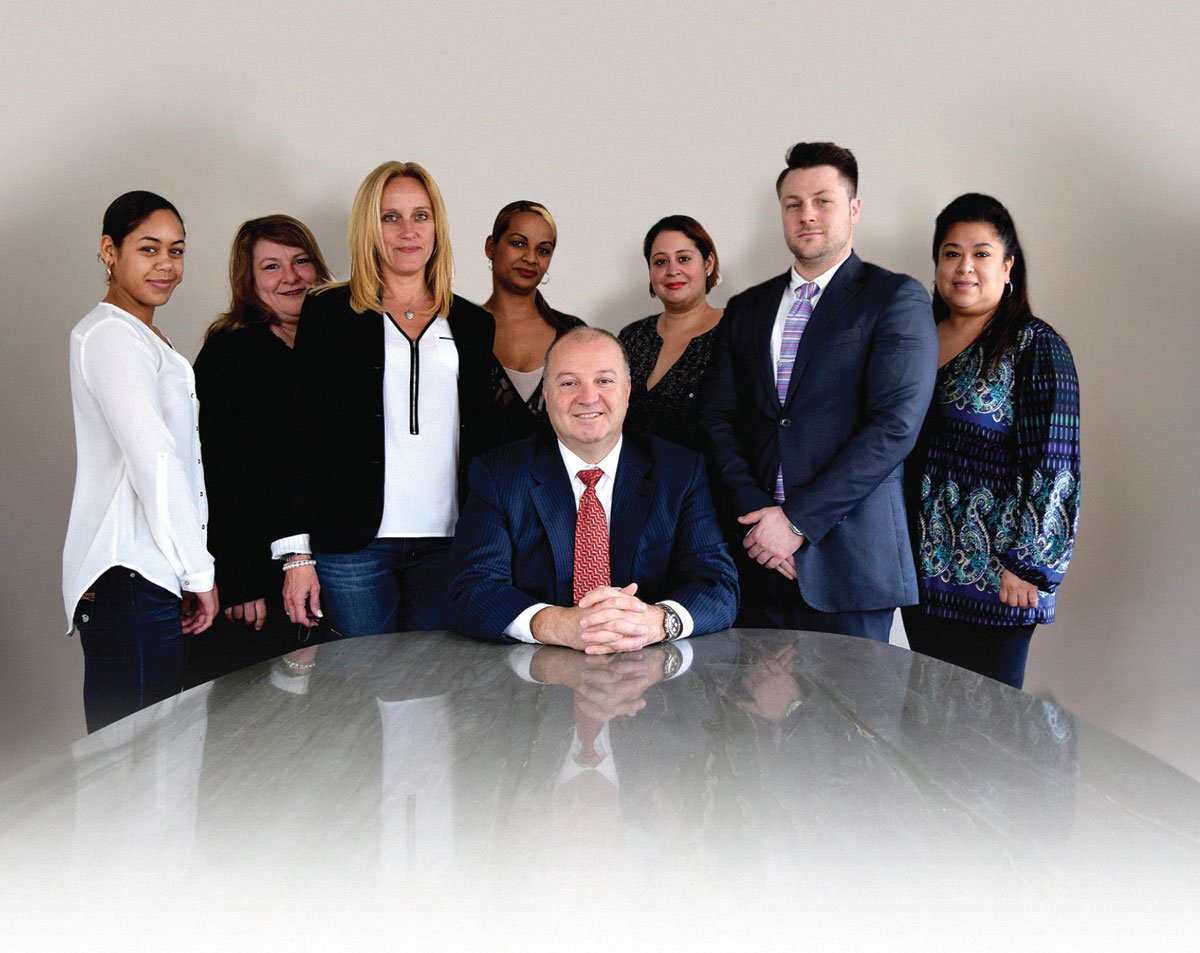 Meet Raffi T. Khorozian
Dedicated Lawyer Protecting the Rights of Injured New Jerseyans.
Raffi T. Khorozian is the Sole Proprietor of a family-owned and operated law practice that he established in 2012. With a strong commitment to his profession and unwavering diligence, Raffi brings extensive experience and a deep sense of dedication to his clients.
After spending years as a lawyer with a reputable law firm, Raffi decided to establish his own practice. Since 1993, he has been passionately protecting the rights of injured individuals throughout New Jersey. His areas of expertise include workers' compensation, car accidents, and personal injury cases.
Raffi's devotion to his clients and the growth of his law firm are at the core of his professional life. Outside of work, he enjoys traveling with his wife and engaging in various sports activities. As an avid sports fan, he actively participates as a coach in the Fort Lee American Little League, the Fort Lee Soccer League, and the Fort Lee Flag Football League. Raffi takes pride in being a family man and is the proud father of two children.
When you choose Raffi T. Khorozian as your Lawyer , you can expect unwavering dedication, personalized attention, and a comprehensive approach to protecting your rights. Trust in his experience and commitment to achieve the best possible outcome for your case.
Education and Membership
Seton Hall University School of Law, Newark, NJ,
JD 1992 Seton Hall University, South Orange, NJ, BA 1989
Professional Background: Aslanian & Khorozian, LLC, Fort Lee, NJ Partner 1992 to 2012
Primary areas of practice include Civil Litigation, Commercial Litigation, Insurance Law and Litigation, Workmen's Compensation Law, Personal Injury. Rooster Holdings, Fort Lee, NJ 2000 to Present
Professional Affiliations: Member of the New Jersey Bar Association. Member of the Washington D.C. Bar Association.

Member of the St. Thomas Armenian Church in Tenafly, New Jersey

Member of the St. Vartanantz Armenian Church in Ridgefield, New Jersey.
Experience
Find a highly experienced team of lawyers with a long record of success.
Access
Our team has the resources and expert access to handle your case with thoroughness. With access to accident reconstruction, medical, biomechanics, economic experts, and more, we accurately determine injuries, damages, negligence, lost wages, and other factors.
Knowledge
We have in-depth knowledge and understanding of the law, procedures, and formalities specifically involving motor vehicle accidents.
Peace of Mind
Find comfort and ease during a time of hardship and uncertainty. Our team can be with you every step of the way to fight for your deserved compensation.
Car Accident Lawyers Car Accident Lawyers Car Accident Lawyers Car Accident Lawyers
Why Choose Us!
Facing lost wages, medical bills, and injuries can be overwhelming. Trust us to handle your accident's legal aspects: communicating with insurance companies, gathering evidence, and strategizing for a successful outcome. Don't suffer negligence without compensation. We personally handle every case, delivering substantial client savings.
Get a Free consultation
One of our experienced car accident lawyer will contact you shortly for a free consultation..
Find us at one of our
15 Locations
BERGEN COUNTY:
1073 Palisade Avenue, Fort Lee, NJ 07024 (201) 341-5691 / (888) NJ-VICTIM / (888) 658-4284
411 Hackensack Avenue, Suite 200, Hackensack, NJ 07601 (201) 341-5691 / (888) NJ-VICTIM / (888) 658-4284
One Meadowlands Plaza, Suite 200 East Rutherford, NJ 07073 (201) 341-5691 / (888) NJ-VICTIM / (888) 658-4284
140 East Ridgewood Avenue, Suite 415 South Tower Paramus, NJ 07652 (201) 341-5691 / (888) NJ-VICTIM / (888) 658-4284
ESSEX COUNTY:
26 Park Street, Suite 2027 Montclair, NJ 07042 (973) 647-2981 / (888) NJ-VICTIM / (888) 658-4284
One Gateway Center, Suite 2600 Newark, NJ 07102 (973) 647-2981 / (888) NJ-VICTIM / (888) 658-4284
134 Evergreen Place, East Orange, NJ 07018 (973) 647-2981 / (888) NJ-VICTIM / (888) 658-428
HUDSON COUNTY:
3221 Bergenline Avenue, Suite E, Union City, NJ 07087 (201) 341-5691 / (888) NJ-VICTIM / (888) 658-4284
101 Hudson Street, 21st. Floor, Jersey City, NJ 07302 (201) 341-5691 / (888) NJ-VICTIM / (888) 658-4284
MERCER COUNTY:
100 Horizon Center Boulevard, 1st and 2nd Floors, Hamilton, NJ 08691 / (888) NJ-VICTIM / (888) 658-4284
MIDDLESEX COUNTY:
197 Route 18 South, Suite 3000, South Wing, East Brunswick, NJ 08816
33 South Wood Avenue #600, Iselin, NJ 08830 (732) 428-2818 / (888) NJ-VICTIM / (888) 658-4284
600 Campus Drive, 6th Floor, New Brunswick, NJ 08901 (732) 428-2818 / (888) NJ-VICTIM / (888) 658-4284
PASSAIC COUNTY:
600 Getty Avenue, Suite 108, Clifton, NJ 07011 (973) 647-2981 / (888) NJ-VICTIM / (888) 658-4284
UNION COUNTY:
927 Elizabeth Avenue, Elizabeth, NJ 07206 (908) 370-4462 / (888) NJ-VICTIM / (888) 658-4284
25 percent lawyer  | Armenian lawyer |  lawyer in Bayonne | lawyer in East Brunswick | lawyer in East Orange | lawyer in Rutherford |lawyer in Hamilton | lawyer in Trenton | lawyer in Montclair | lawyer in New Brunswick | lawyer in Clifton |  lawyer in Paramus | lawyer in Hackensack | lawyer in Union City | lawyer in Jersey City | lawyer in Newark | lawyer in Iselin | lawyer in Elizabeth |  lawyer in Perth Amboy | lawyer in Trenton | lawyer in paterson | NJ lawyer | lawyer near me | lawyers |  neck pain | personal injury lawyers| Portuguese | Spanish lawyers |  trial lawyers | trial lawyer | lawyer.